New Software Gets You Tons of 5 Star Reviews… Without You Having To Do Anything At All!
The Shocking Data Behind Purchase Behavior…
Let's say 50 people consider buying from you. 49 of them care about reviews…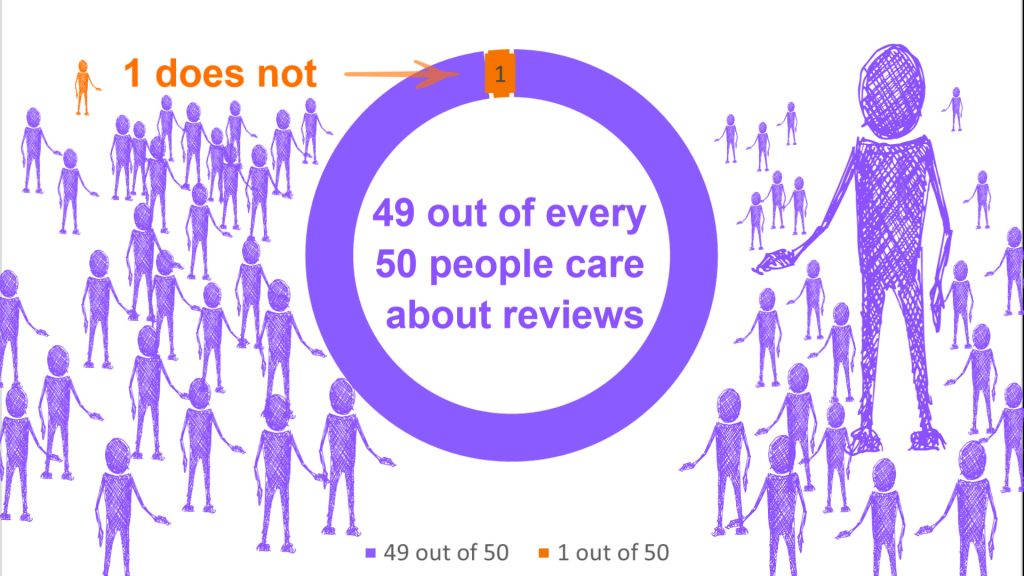 Watch out! If wrong-headed customers leave you bad reviews or there aren't enough or if yours are just not visible… Out of every 50 prospects 49 will likely check you out online and then… go straight to the competition. However much you paid to attract them! (And you're not always safe even if you rely on word of mouth.)
New Free Map Test Reveals How Much Business You're Missing Out On Without Any Guesswork!
Plus you get a surprise bonus to make more of your reviews
Without your own "buzzing crowd" of reviews you might notice you suffer from:
Dried up leads
Ads that don't pay
Marketing that disappoints
A website that doesn't deliver
Word of mouth that doesn't bring in enough custom
As you read this you know that reviews are like the buzzing crowd outside an Apple shop the morning a new iPhone is released generating excitement, telling people how awesome you are, and pulling in ever more people to buy from you.
Or are you more like the empty restaurant that no one eats in… because no one eats there? That's what too few reviews can lead to.
Your Awesomeness Deserves More and Better Reviews
Search engines, ad networks, marketers, gurus, people promising leads don't warn you so this could be why you're struggling for business…
And I feel for you because we have all been there! Being so exceptional you deserve awesome reviews and having the time to actually get them is near-on impossible.
The good news? We can take the load off you if you want because at last there is a new sure and certain system to get more and better reviews whatever your reviews look like today:
Decide you want more of the awesome reviews you deserve
Reap rewards
Or just call me now on (857) 776-3443 and I'll listen to what you need – my name is Matt.
You Are Being Misled!
Picture this. You're looking in a restaurant window and there's not much going on. A passer-by smiles and says: "The one next door's better." And you look over and there's a happy buzz about the place.
Which do you choose?
Every bit of advice about ads, organic traffic, and word of mouth is misleading. Every bit.
Because they "forget" to tell you this. 49 out of 50 people care about online reviews.
Some say reviews beat word-of-mouth hands down because:
Word-of-mouth works one-to-one while reviews speak to hundreds or thousands of people
(I left a review for a local business seen by 21,000 people!)
Good reviews attract good employees in case you need to hire
Reviews are a visible asset in case you ever want to sell
Fortunately, there is a new way to get reviews and get them seen by massive numbers without hiring a whole new team because…
Hiring a team is hard these days and expensive always and…
If your reviews suck or if they are just not visible, that leaves you with a share of the 1 out of 50 people who don't care…
The "Map Test" Reveals What You're Missing Out On
And the size of opportunity you have to boost business.
Something else they might have forgotten to tell you: If your review average is over 4 you still might not be out of the woods.
And don't think that because you pay for ads or rely on word of mouth you can ignore this either.
You can take a simplified version of the Map Test right now. (Or get the full Map Test results emailed to you: Activate Map Test)
Google your-industry your-city your-state. Like "Chiropractor Des Moines Iowa"
Now look at the three companies that show up next to the map. These are the Map Pack crowd. Note how many reviews they have and the average rating.
Find your company – you might have to click on the "more places" button.
Check out your reviews. How many? What's the tone? The number of stars of course. How do they compare to the competition?
Results Of A Map Test
Here's what I noticed for Chiros in Des Moines… the first result for Enhanced Health Chiropractic is an ad. They would do less self-harm if they burned their money. With just 22 reviews vs 181 for Iowa Family Chiropractic, the ad spend is driving traffic to the competition.
Also in the Map Pack is South Des Moines Chiropractic. They have burned a ton of money to get there (I'll tell you why) and they would have done better to give their money to charity.
Huh? They have four (four!) (four!) reviews. When above them Adio Chiropractic has 384, Iowa Family has 181, even poor old Enhanced Health has 22! Those four reviews are a gift to everyone else, driving new patients their way.
And you can guarantee South Des Moines Chiropractic has splurged a ton of money getting into the Map Pack because reviews make up about 30% of the algorithm and yet they are in the Map Pack with just four, but…
It's wasted. Every cent. It's like having 4 cheerleaders vs the 384 of Adio Chiropractic. Picture the pom-poms, imagine the sound – you won't even notice the 4 in the crowd.
Wait. It's worse. People do notice the 4 vs the 384 and will be driven to Adio. Come on, who would you call?
384 vs 4. So unfair! It's like taking a machine gun to a knife fight.
That's exactly the overwhelming advantage you can have. If you choose.
What Do Your Results Mean?
Okay, my awesome 4- and 5-star business owners, are you back with me? You are missing out if:
You have fewer reviews than the Map Pack crowd, or…
Your review average is less than the Map Pack crowd
You just don't stand out as the go-to place with more reviews…
That's a high bar.
It could be why you've struggled to make marketing work despite being awesome at what you do.
Note: You don't even have to have a bad reputation in 2022 to suffer from lost prospects. Just not standing out slashes new customer acquisition.
Yet you can seize a tremendous advantage. Let's see why…
Get More Reviews
Here's the good news. Having plenty of 5-star reviews is like having a loyal tribe guiding people to your door while chatting to them about your awesomeness.
Do you think these prospects might be easier to convert?
Do you think they might even buy more now and in the future?
Do you think they might even make better customers?
The even better news is that it's a virtuous circle: The more people in your loyal tribe, the more people clamor to join in by giving you their money!
Would you like to build your own loyal tribe? You know you can and you know the results will transform your business…
What If You Get Too Many New Customers?
What to do? You get to choose. You can scale your business, and make more money.
Or become more exclusive, and make more money.
Which would work for you?
Either way, you'll build your reputation as the go-to expert around town. And then, what is your dream?
Don't Give Up On Other Marketing!
So if reviews are the new word of mouth should you stop your other marketing?
Not at all, just know most prospects will look at you through the filter of your reviews.
Will you have them look through heart-warming rose-tinted lenses? Or an old pair of scratched, cracked, and twisted 70's style aviator sunglasses last worn by the baddy in a bad b-movie?
Your reviews could pull people in, or send them running into the arms of your competition.
The competition's reviews can snatch prospects away from you or you can take them from the competition.
Reviews are a marketing multiplier.
Whatever you spend in money and time on ads, social, your website, and word of mouth everything gets multiplied by good reviews.
Now you can get more 5-star reviews and rocket the response from all your marketing.
But Isn't It Too Much Work?
Yes, asking people for reviews is a lot of work. Work your typical employee hates. Sure, you can force them. But do you want to?
It's distracting to keep an eye out so you can say "thank you" to reviewers so quickly they feel appreciated. Or fix complaints so quickly you turn them into 5-star reviews (and get a raving fan).
There is no content you can post as compelling as other people's praise for you! But taking the best reviews, turning each of them into a Review Image that works well on social media, and posting them all over, is so much work no one sticks at it.
There must be an easier way because that's just the start. There are Video Reviews that grab attention even better than images. More work.
There are the Press Releases about your reviews that massively raise your profile. Specialized work to write, needing hundreds of press contacts to distribute…
And the Traffic Nudges that get search engines to take notice are pretty much impossible to replicate on your own.
What if there were an easier way that doesn't require hours and hours of effort and a new set of skills to learn…
Introducing Reputation Remarketing
The new, first, and only cloud-based system to start with a massive review boost and follow up with a steady flow of new reviews, boosted by image posting, complaint optimization, video posting, press releases, and traffic nudges.
You get more reviews, you get 5-star reviews, and you get noticed.
It's all you need to build your tribe. To capture the hearts and minds of your prospects. To send them to you ready to buy. And stop the Evil Army from abducting them them without you even knowing.
What You're Going to Get
Generate 10, 20, or 30 reviews in as little as two days.
Generate a steady flow of new reviews without needing to hire new staff to do it.
Your 5-star reviews get reformated into images and spread all over social media and your website because there is no better content than people singing your praises in public.
Complaints are a huge opportunity to fix faults and generate raving fans. But. Fix them fast and fix them in private.
Your best reviews get filmed as videos with a spokesmodel intro, hosted on YouTube for maximum exposure, and posted to your website and social. Standalone price: $297 each, one per month included in the Review Dominator plan.
Press Release Remarketing
Done for you shout out to 341 or more serious news outlets with unique, professionally written by American copywriters, 800+ word press releases. Featuring a review image, a review video, and your pin picked out on your local map, they link to the original review to reach massive numbers of eyeballs. Standalone price: $397 each, one per month included in the Review Dominator plan.
Even more people get to see the message that you are the go-to expert. Standalone price: $397 per month, included in the Review Dominator plan.
Join Today As A Founder Member
As your reviews multiply and your profits soar, in return for helping me turn your story of hope and transformation into a case study, I invite you to join today as a Founder Member*.
The Founder Member offer will close as soon as I have enough case studies to power up my marketing, or after 100 members have joined. Hint: The price will go up!
(In case you want to buy now and don't want your story told that's fine too. Simply pick the plan you want and choose to pay the full price at the checkout.)
Reputation Remarketing
Reviews Mean Profits
Free Review Audit
$0
DIY Online Audit
Expert Audit by Email
Optional (free) Review Call
Surprise Thank You Gift
Best Value
Review Dominator
$1288 $497 $297/mo
10 Unlimited Review Bursts
100 Unlimited Review Requests/mo
100 Unlimited Image Review Remarketing/mo
100 Unlimited Complaint Optimizations/mo
1 Video Review Remarketing/mo
1 Press Release Remarketing/mo
50 Secret Signals/mo
Review Booster
$197 $97/mo
1 Unlimited Review Bursts
10 Unlimited Review Requests/mo
10 Unlimited Image Review Remarketing/mo
10 Unlimited Complaint Optimizations/mo
* Grandfathering: You're grandfathered into the Founder Members' unlimited offer and pricing which means you'll never pay more or get less than offered here for as long as you remain enrolled even after the Founders' offer is removed, the price increases, and the unlimited reviews bursts, review flow and review remarketing revert to the standard volume.
Triple Guarantee: 1) If for any reason you don't get a burst of reviews in the first five days 2) You're not happy with the number of reviews you get in the first month 3) Even if you just can't get on with my British accent, I'll refund your first month's money and we'll part as friends.
No lock-in: There is no contract and no lock-in you can cancel whenever you choose and the service will stop at the end of the month.
Yours, Matt Tarrant.
P.S. Those three words… Serve, Share, Receive. Serve your customers so well they are transformed. Share the transformation with prospects. Receive your just rewards. We can talk about this some more.
P.P.S. If you're the busy type that scrolls to the end, here's the skinny:
Reviews means profits because 98% of us use reviews to decide where to spend money.
True whatever combination of ads, organic, and word of mouth you use.
And reviews are the new digital word of mouth.
You can get more reviews but it's a lot of work.
There is an easier and better way.